Earlier this month I returned from a 9 day trip to Kuala Lumpur, Malaysia where I attended Global Startup Youth (GSY) and Global Entrepreneurship Summit (GES). In short, GSY is a Startup Weekend-esque event (on steroids) with 500 participants aged 18-25 from more than a hundred different countries. GES is the brainchild of the Obama Administration, aiming to promote entrepreneurship across the globe and building ties between the US and muslim countries. GES in Kuala Lumpur 2013 was the 4th installment.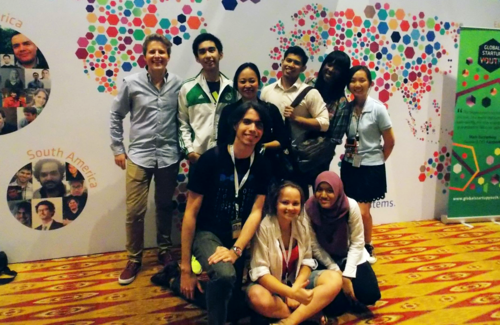 (Team photo, GSY)
After three high energy days at GSY, making tons of friends, building a negotiation training app, lack of sleep and battling both a massive jet lag and crappy hotel wifi, GES started.
After two days of intense networking, listening to a number of talks and panels, these are my three main takeaways.
1. Culture vs Startups in Asia
In a lot of Asian cultures, failure is seen as a very shameful thing. As an entrepreneur you are of course not trying to fail, but being overly afraid of failure will be inhibiting.
Myteksi co-founder and tech lead, Aaron Gill, mentioned this as one of the obstacles they had faced when trying to expand to other South-East Asian countries.
2. Hardware revolution
This shouldn't really come as a shock for anyone - "the hardware revolution is coming" has been a mantra for a while now. But hearing Chris Anderson, founder and CEO of 3D Robotics, explain how open source drones has been able to really disrupt the defense industry actually opened my eyes even more to the importance of this "revolution". It made me realize that it's not only about Quantitative Self gadgets and wearables, but that it probably has a bigger potential to fundamentally change society than even the internet revolution.
One of the posts I linked to in the last edition of Startup Letters was actually a very good primer on this topic if you're interested in reading up on it.
3. Lack of "backend" in many Asian countries and regions
When building businesses that rely on distribution, such as e-commerce, you will face a lack of "web 1.0 infrastructure". This is how CEO of LAZADA Group (part of Rocket Internet), Maximilian Bittner, put it. The problem is that all the logistics companies are set up for handling B2B bulk shipments efficiently and cheaply, not personal deliveries or returns. This renders Amazon Prime-like shipping speeds nearly impossible. Fixing this is a great opportunity for companies or entrepreneurs with the right resources.