The day has finally come, Spotify, my most used app/program besides Chrome the last 4 years has finally launched a browser version at play.spotify.com
According to various news media the web app won't be available to most users until 2013. However, using this link you should get in already now.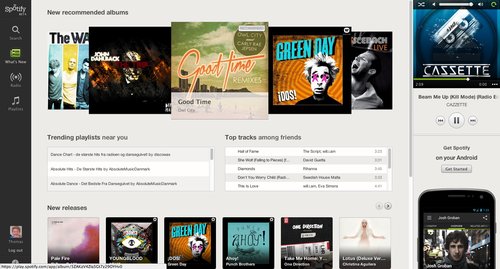 This is verified to be working in Denmark with a US Spotify account. Let me know if you run into any trouble.
Update: This trick has now been confirmed working in the US, France, Belgium, The Netherlands, and for some reason also Portugal (which is not supposed to have access to Spotify at all!).
Update 2: It also seems to be working in Singapore, Sweden, Norway and the UK. I guess it's fair to assume it will work anywhere.
Update 3: This hack might not permanently give you access to the Web Player Beta (if cookies are cleared, for example). But fear not, I've just made a Chrome plugin giving you easy access. Get it from the Chrome Web Store now!

Enjoy :)