I've reviewed the most popular and recommended Android apps for consuming Hacker News on the go. The apps are tested on a Galaxy Nexus running 4.1 Jelly Bean. If you have tried other apps, please let me know in the comments :)

Play Store Rating / Downloads: 4.2 / 5000 - 10000
My Rating:  5/5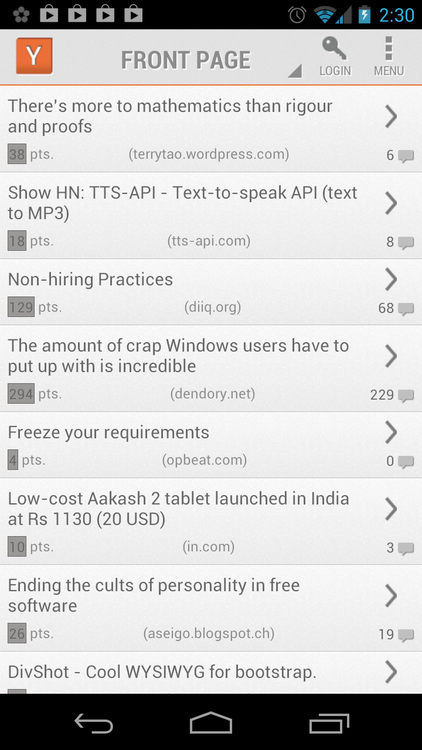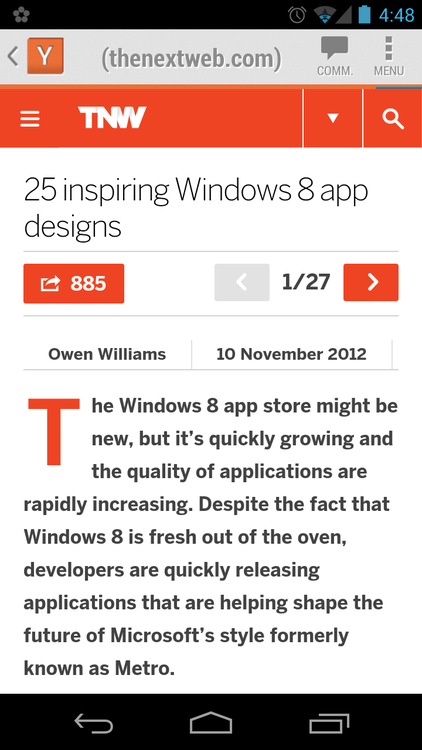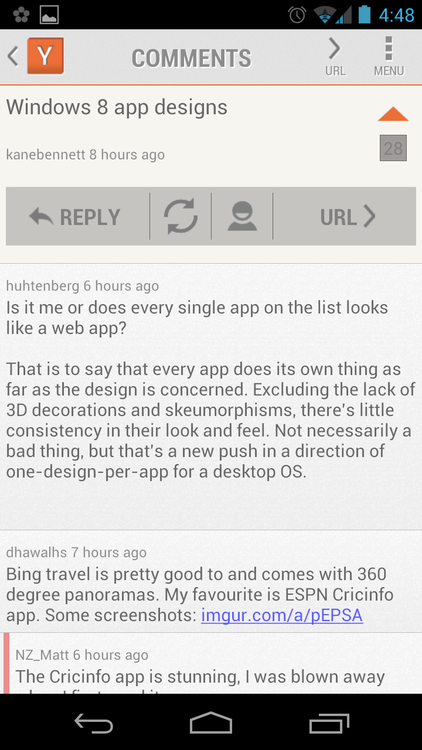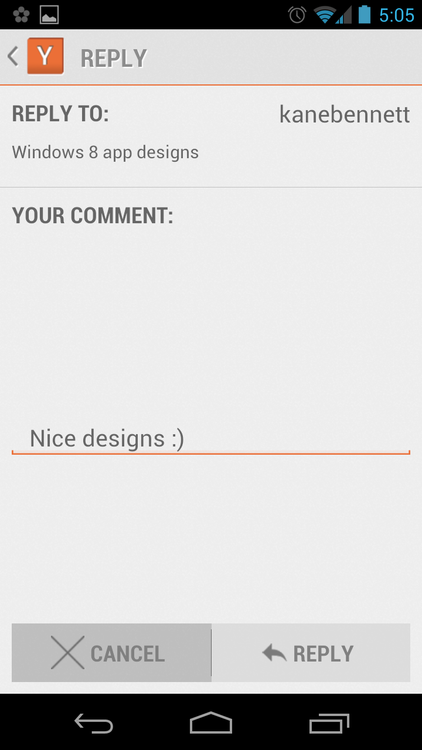 Pros
The most complete app
Beautiful ICS+ Compliant design
Beautiful & intuitive user profiles
Links opens within app
Possibility to view links in 3rd party browser
Comment & upvote functionality
Cons
No search functionality
Cannot add new links/posts
No sharing
No infinite scroll on home page
Bottom line
Perhaps the best app, at least as long as you don't require sharing of posts (big issue for many, myself included) or search.
—

Play Store Rating / Downloads: 4.0 / 500 - 1000
My Rating:  5/5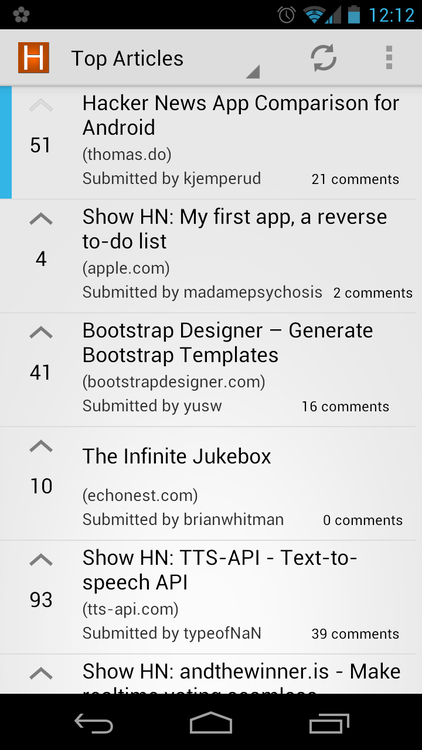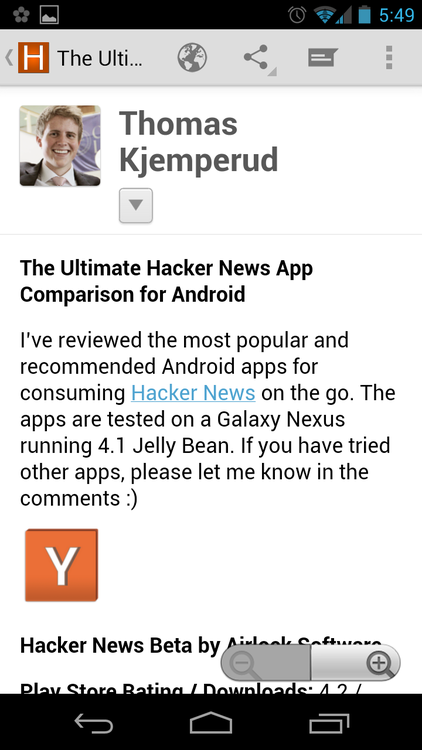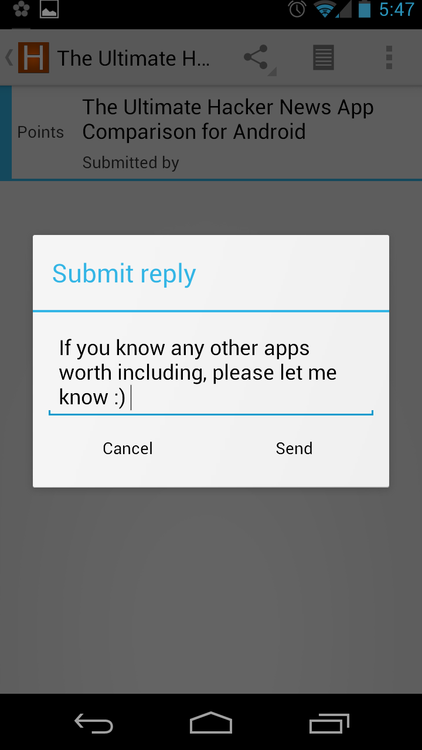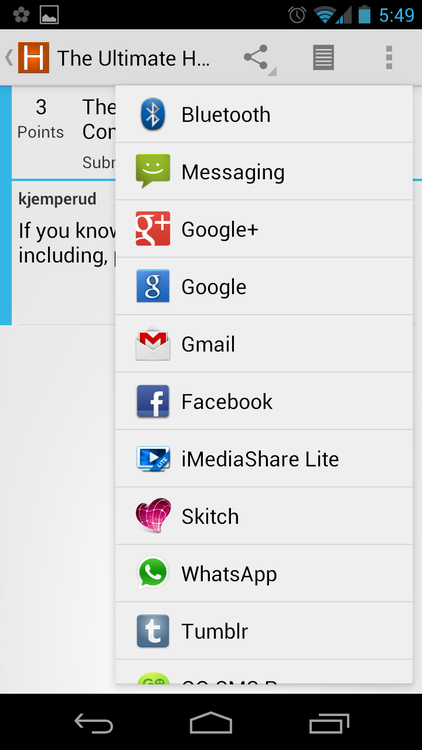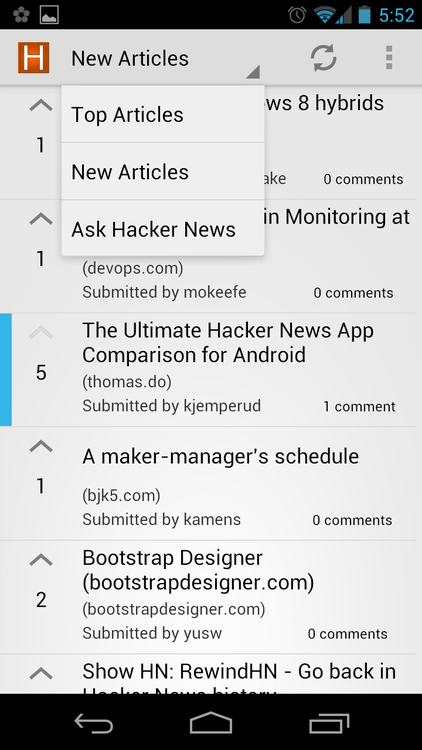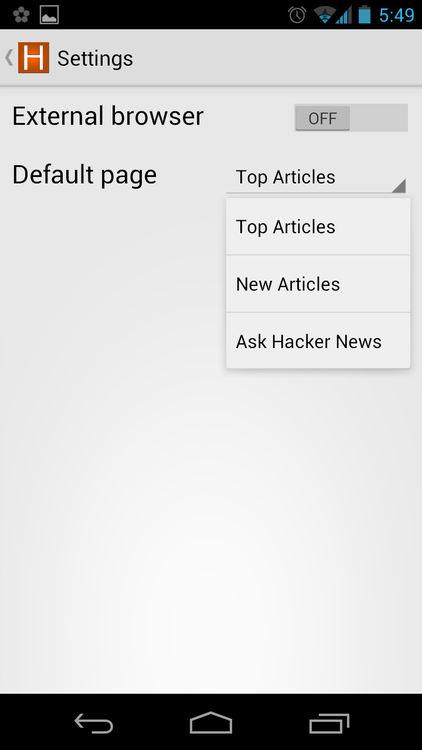 Pros
Beautiful ICS+ design
Links opens within app (default)
Setting to view links in 3rd party browser
Comment & upvote functionality
Super fast & snappy
Sharing
Infinite scroll
Cons
No search functionality
Cannot add new links/posts
Only available for Android 4.0+ (ICS)
Slightly unstable (experienced FC once when posting a comment)
Bottom line
Probably the best choice as long as you run Android 4.0 Ice Cream Sandwich or above, and you don't require search functionality. 
—

Play Store Rating / Downloads: 4.1 / 10000 - 50000
My Rating:  4/5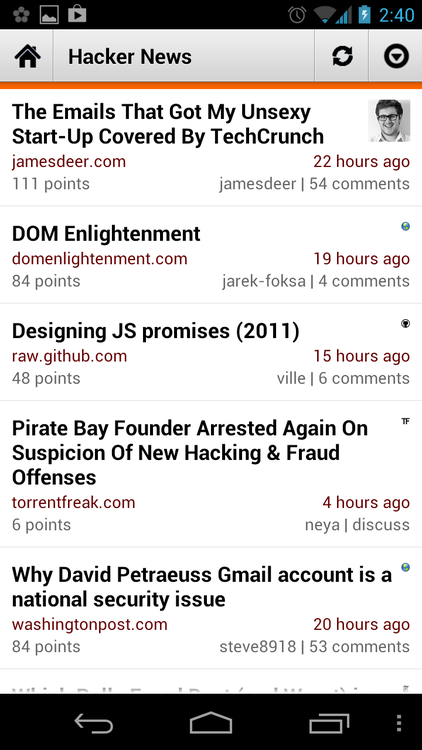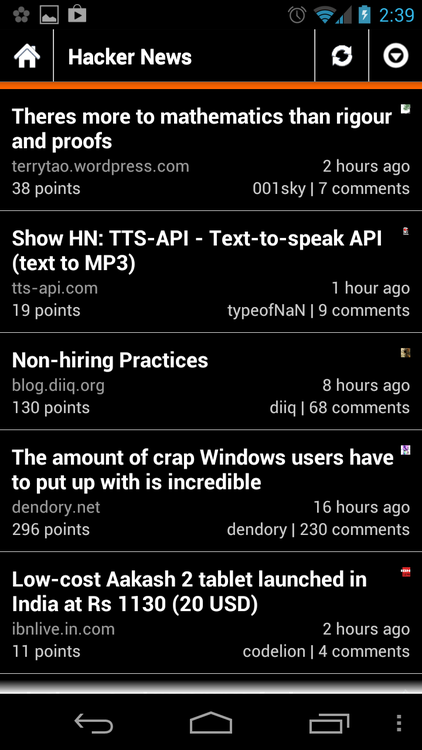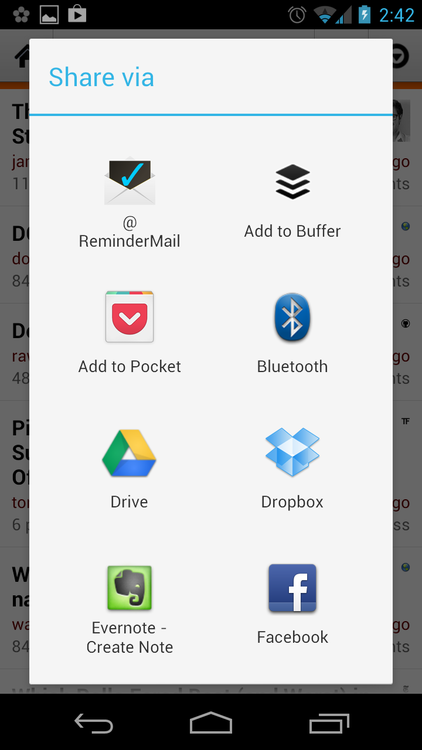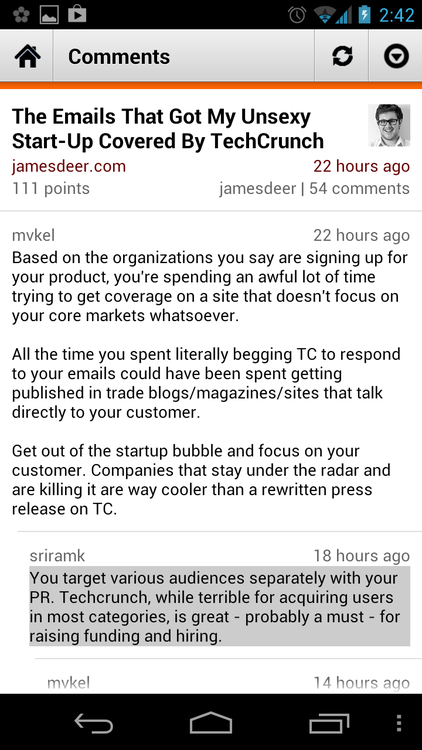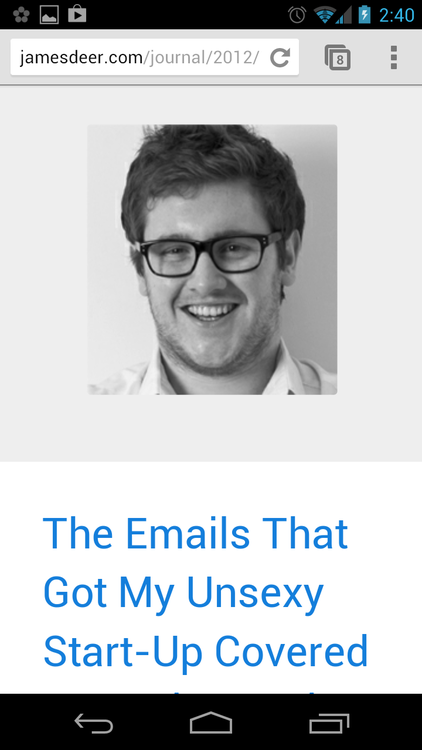 Pros
Good design
Favicons/mini images next to posts
Save posts for later
Sharing
Instapaper/Pocket (aka Read It Later) integration
Lite/text view of links within app
Night mode
Cons
No search functionality
Relies on 3rd party browser to view content
Not possible to add articles/links/comments/upvotes
Bottom Line
A well designed and stable app ideal for passive users of HN that prefer to view articles in a 3rd party browser (such as Chrome or Dolphin). Direct Instapaper/Pocket integration is not really that useful - it would only take one extra click to add it through the share feature.
—

Play Store Rating / Downloads: 3.8 / 10000 - 50000
My Rating:  3/5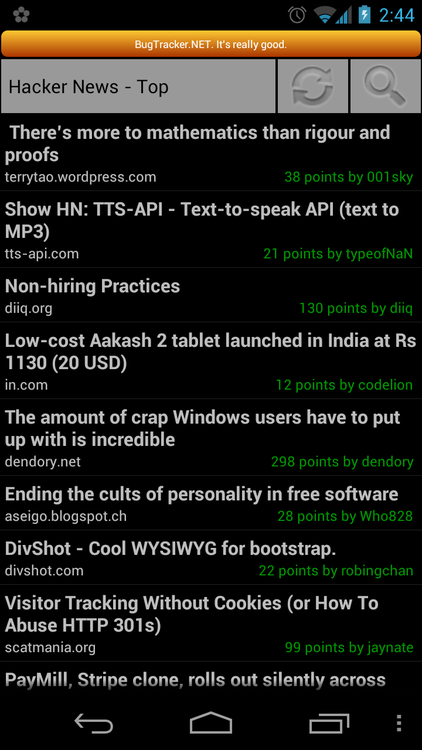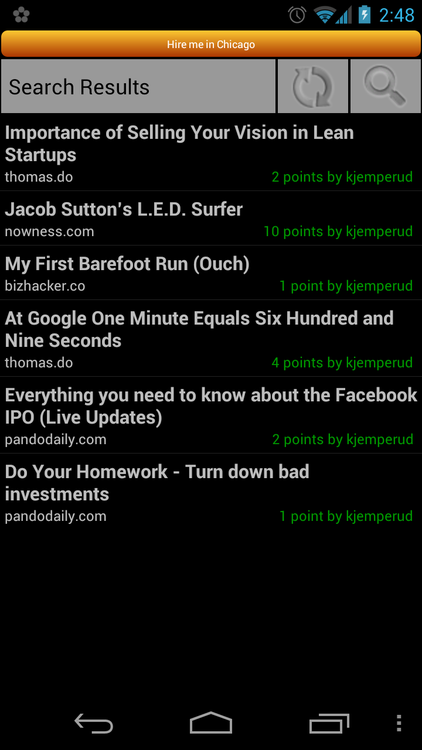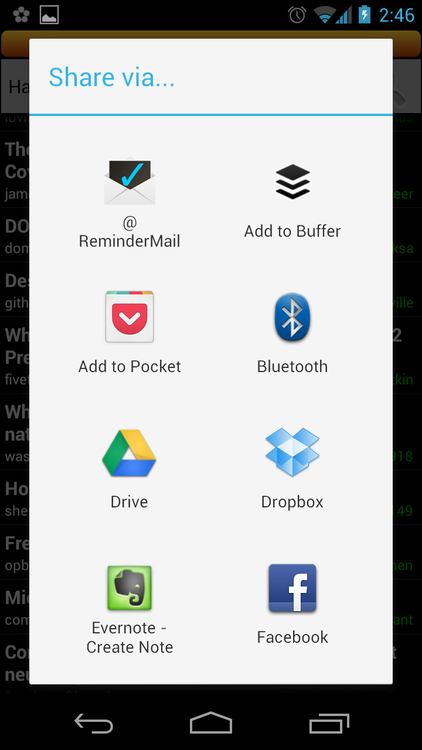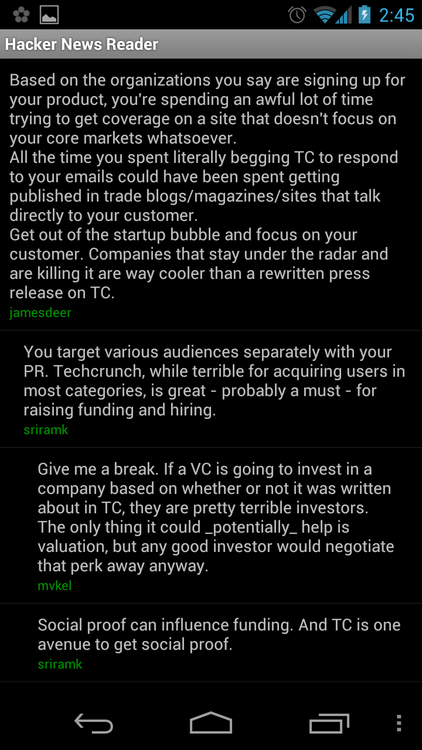 Pros
Search functionality
Instapaper integration
Sharing
Possibility to view comments through 3rd party browser if you want to comment
Cons
Ad supported
Ugly design
Relies entirely on 3rd party browsers to view links
Not possible to add comments/upvotes/links/posts.
Bottom Line
The only reason to choose this app is the search functionality. If search isn't that important, you should probably consider the other apps instead.
—

Play Store Rating / Downloads: 4.6 / 5000 - 10000
My Rating:  4/5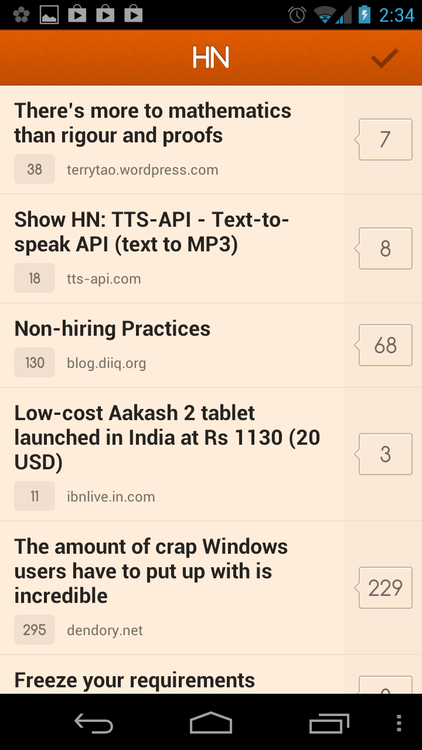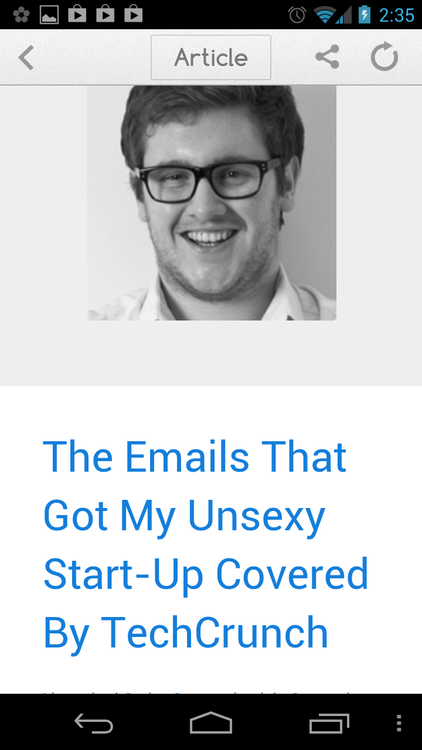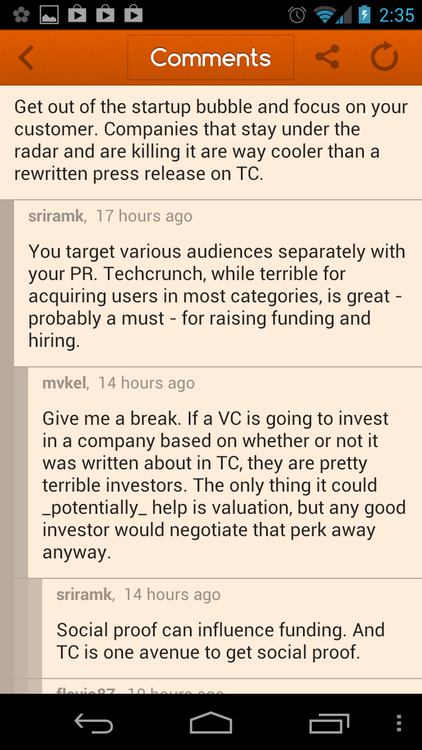 Pros
Beautiful design (Best design of all IMO)
View links within app
Post sharing
Extremely simple
Cons
No search functionality
Only the front page (no New or Ask HN categories)
Not able to comment/upvote/add content
Extremely simple
Bottom Line
Good for passive users of the HN that don't comment, search or add any content. If you mainly use your HN app to check the front page while on the go, this app may be right for you.
—

Play Store Rating / Downloads: 3.3 / 10000 - 50000
My Rating:  1/5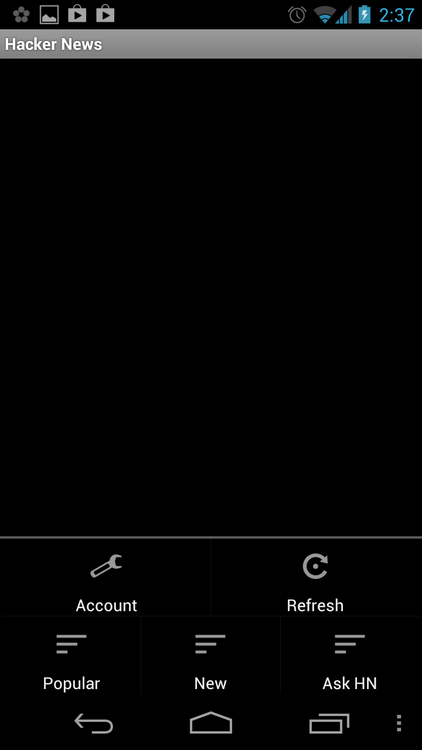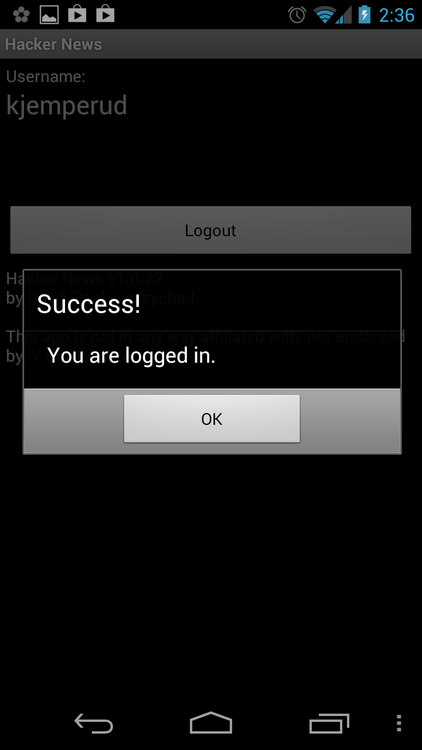 Pros
Cons
Does not load any content
Terrible design
No search functionality
Not able to add any content
Bottom Line
In it's current state it's completely useless.