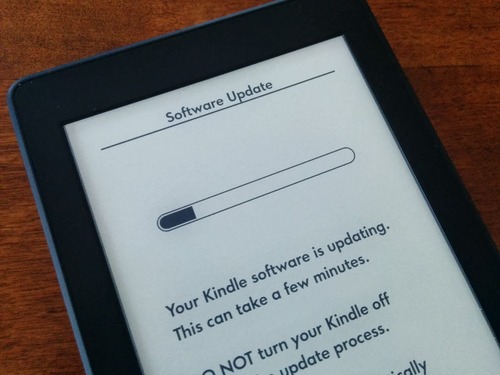 Amazon recently announced that the promised Goodreads integration for Kindle Paperwhite was ready. However, they have only slowly been rolling it out "over the air". Dislike waiting? Get it now!
Head over to Amazon's software update page for the 2nd gen Paperwhite and download the 5.4.2 update.
Connect your Kindle Paperwhite to your Mac or Windows computer (it will show up as an external disk in Finder/Explorer) and drag and drop the update_kindle_5.4.2.bin file to the main folder of the Kindle.

Unplug your Kindle and go to the home screen. Press the menu button (the three lines), select Settings, press the menu button again in the Settings screen and select Update Your Kindle.

Now your Kindle will update and apply the updates (may take around 5 minutes). When it is finished you will see the Goodreads "g" next to the menu button on the home screen. Click it and log in with your Goodreads account.
PS! If you found this guide useful, please consider sharing it with your friends. That, however, is completely up to you :)
Update: I just made a quick explainer video with the steps above, check it out: